Are you a beginner at managing your brand's social media account?
No worries, you've come to the right place ! We're here to help you learn how you should really reply to your not-so-pleasant Social Media messages & comments.
1. Try replying in the shortest time possible
Either you want it or not, the badge who measures the response time is considered to be the real face of your brand in social media.
A good community manager never ignores mesages (we're talking here about the ones who never ever got their message replied). As a matter of fact, you shouldn't take longer than an hour to answer them.
During this time, you must inform them that you got their message and that you'll offer them more info as soon as possible.
The ones standing behind the questions posted on Social Media will feel much better and closer to the brand when  their matters are listened and handled fast.
2. Unhappy users? Dont wash your dirty laundry in the "online eye"
Most of the times, the unhappy users would strew over your wall with negative comments.
In such cases, we recommend you to invite them on a private chatbox, where they can  tell you all their discontents regarding a product or service of your brand.
This way, not only your wall will look much cleaner, but the users will feel a sense of relief knowing that they did what they felt like doing.
3. Keep your calm
Most of the time, having to reply to negative messages can really put a strain on your positive outlook. It can get both frustrating and tiring. But what matters most is the fact that you shouldn't take it personally.
After all, these kind of messages don't really apply to you, but more to the brand.
Remember: you're only "the voice" behind the screen.
4. Humanize your way of replying to people
No one likes someone who replies to their messages on a cold, dried-up tone of voice. Instead, you should chose to personalise your answer.
Try adding up a sprinkle of empaty and real concern to the user's unlimited chain of problems.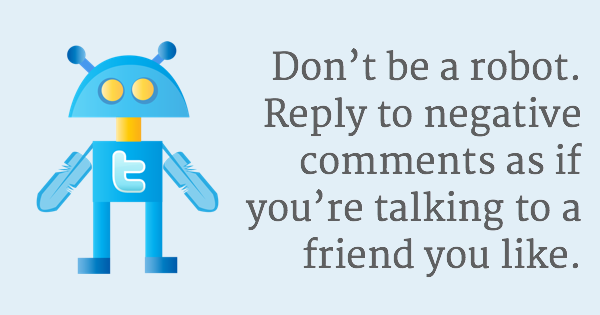 Power tip: don't shy away at the thought of using the name of the user. This enhances the conversational and friendly  tone of voice of the discussion.
©Sursa media: http://superspicymedia.com