[:en]
Facebook seems to strike back whenever it implements the numerous updates on the social platform. If during the last period of time, the Mother's Day reaction was trending, this month the equity and tolerance among all people are being pulled out.
As June is the time when people celebrate the Pride Month worldwide, Facebook decided to implement a new suitable reaction. Among the other six existent ones, the rainbow flag has occupied the scene. The flag is meant to symbolise the pride and appartenence to the LGBTQ community.
The #1 social platform's representatives declared, through a post, the following words: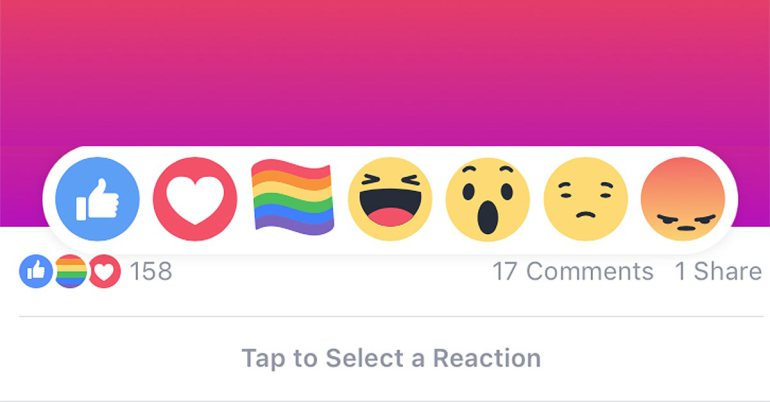 "We believe in building a platform that supports all communities. So we're celebrating love and diversity this Pride by giving you a special reaction to use during Pride Month."
However, you cannot get the hold of the reaction without doing anything. All you have to do is log on Facebook search for the LGBTQ official page and hit like. You might not get it immediatly, so all you have to do is either referesh the page or update the mobile application.
The multicolored flag was firstly created by the activist named Gilbert Baker in 1978 and is meant to symbolise the gay community.
[:ro]
Facebook pare să nu se lase mai prejos atunci când vine vorba de numeroasele update-uri și implementări pe platforma socială. Dacă în ultima perioadă, reacția care reprezenta Ziua Mamei era la modă, luna aceasta, echitatea între persoane și toleranța sunt scoase la înaintare.
Cum în iunie oamenii de pe Glob celebrează Pride Month, Facebook s-a decis să implementeze o nouă reacție corespunzătoare, pe lângă cele șase existente deja. Așa a intrat în scenă rainbow flag, menit să simbolizeze mândria de apartenență la comunitatea LGBT.
Într-o postare apărută pe pagina oficială, reprezentanții platformei sociale #1 au declarat următoarele: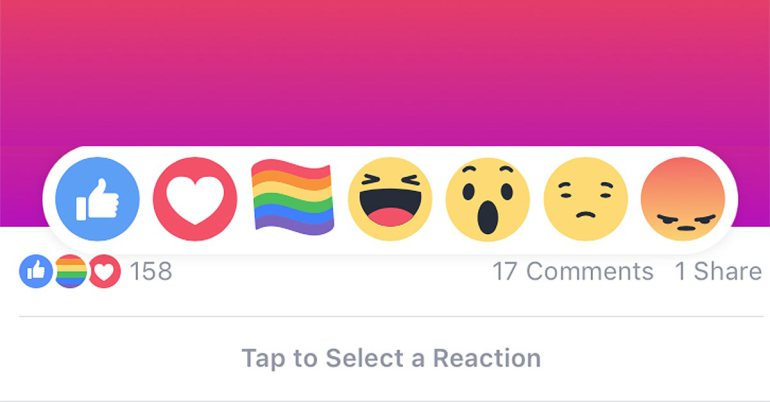 "Credem cu tărie în existența unei platforme care să integreze și să susțină toate comunitățile. Așa că celebrăm dragostea și diversitatea prin Mândrie oferindu-vă o reacție specială pe durata Lunii Mândriei"
Totuși, noua platformă nu devine disponibilă de la sine. Tot ce trebuie să faci este să te loghezi și să dai like paginii oficiale LGBTQ. Cum există posibilitatea să nu apară imediat, un mic refresh al site-ului sau un update al aplicației sunt de ajuns pentru a intra în posesia emojii-ului.
Steagul multicolor a fost, prima dată, creat de activistul Gilbert Baker în 1978 și simbolizează comunitatea gay.
[:]